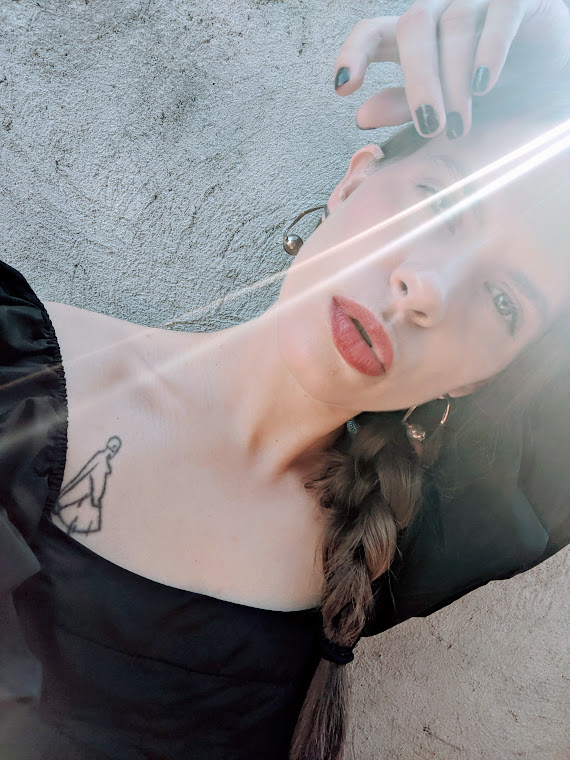 Emily Leon is an Art Historian, Independent Scholar, Digital Humanist, & Drummer based in the American Southwest. She is the Curatorial Research Associate at the Georgia O'Keeffe Museum and a Digital Humanist with The Posen Library. She holds an MA in Digital Art History from Duke University and a BA in Art History from the University of North Carolina at Greensboro, and is a member of the European Society for the Study of Western Esotericism (ESSWE) and the Digital Art History Society (DAHS). 
As an art historian, she specializes in modernism & the esoteric interests of late 19th and early 20th century Western artists, with a particular concentration on abstraction, and the links between art, science, and religion. From 2017-2021, her scholarship focused on the social, spiritual, and theoretical implications of Swedish artist Hilma af Klint's work. She is the founder of the transdisciplinary Working Group In the Eggshell, a five-part lecture series that seeks to redress modern art by turning to how the sciences, religious beliefs, and occult traditions provide a better articulation of modern art. A companion to the series entitled Hatching the Hermetic Chick: A Critical Art Writing Group debuts late 2022. 
Her literary debut Triadic Intimacy & the Sound of Secrets (2023) is forthcoming on Inside the Castle Press. 
Research profile: intellectual and social histories, critical historiography and methodology, museum and canon studies, symbology, digital humanities
Presentations, Conferences, & Podcasts
Presenter, Southwest Popular/American Culture Association (SWPACA) conference on "Esotericism, Occultism, and Magic," February 2023.
Presenter, Religion & Art forum, Goldsmiths, University of London, November 15, 2021.
Presenter, "Between the Physical & Psychical: Esoteric Representation of Nature in the Work of Hilma af Klint," Thought Forms Lecture Series, Sacred Bones Instagram Live [@sacredbones], November 19, 2020, 7pm EST.
"Spiritual Flora: Abstraction, Spiritualism, and Botany in Séance Drawings," Esotericism and the Scientific Imagination, Association for the Study of Esotericism Biannual Conference, Davis, CA, May 14-17, 2020. CANCELLED due to COVID-19.
Presenter, "Analyzing the Crisis of Hilma af Klint: The Digital and Analog Analysis of Spirituality, Abstraction, and Art," Digital Archaeology Group, Memorial University of Newfoundland, St. Johns, NL, Canada, March 1, 2019.
Publications
Books
Triadic Intimacy & the Sound of Secrets. Kansas: Inside the Castle, 2023.
Journals & Book Essays
Forthcoming essay. In "A Row of Trees." England: Sonic Art Research Unit. November 2022.
"Sonic Selves & the Rune-Filled Ear." In Patrick Farmer, ed. Azimuth, the ecology of an ear. England: Sonic Art Research Unit, 2019.
Book Reviews
Hilma af Klint: Notes and Methods, ed. Christine Burgin. Chicago: University of Chicago Press, 2018. In Art Libraries Society of North America (ARLIS/NA Reviews), January 7, 2019.
Exhibition Catalogue Essays
"Considerations on Michaela Davies." In Engineering the Future: As part of V&A Digital Design Weekend 2016, Irini Papadimitriou, Andrew Prescott, Jon Rogers, eds. United Kingdom: Uniform Communications Ltd., 2016.
ProQuest 
"Analyzing the Crisis of Hilma Af Klint: The Digital and Analog Analysis of Spirituality, Abstraction, and Art." Order No. 10976180, Duke University, 2018. 
Liner Notes
Lee Weisert, Recesses. 2022. Liner Notes.
Polyorchard. An Excess of Primary Forms. Laurent Estoppey and David Menestres. 2021. Liner Notes.
Polyorchard. ink. Jeb Bishop and David Menestres. 2020. Double CD. Liner notes.
Polyorchard. Red October. Jeb Bishop, Laurent Estoppey, Shawn Galvin, David Menestres, 2017. Limited Edition Cassette. Liner notes.
Polyorchard. Color Theory in Black and White. Jeb Bishop, Chris Eubank, Laurent Estoppey, David Menestres, Dan Ruccia. 2015. CD. Liner notes.
Collaborative Projects
Podcast: "A Readiness to Multiply", Cartopodes, Ep. 3, "Hatching", June 2021.
Podcast: "Walking", on Cartopodes, Ep. 2, "Islands", 2021.
Artzine: envelop/p/e, issue #2. Curated by Laurent Estoppey, 2019.